Tamanegi No Koto Koto Ni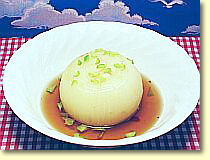 Tamanegi No Koto Koto Ni
(Simmered onion)
Ingredients(Serving for 4 people)
Onion: 4
Golden Tamari Sauce + Dashi / Golden Tamari Sauce: 140cc

Dashi powder (If you use Golden Tamari sauce, you need to add Dashi powder): 1 tsp

Water: 1100cc
Chili pepper: small amount
Asatsuki (A. schoenoprasum var. foliosum): small amount

If you can not find Asatsuki, you may use Chives ( Schnittlauch, Ciboulette, Allium schoenoprasum, 蝦夷蔥, Сибирският лук..).
Cooking Instruction
Remove the serface layers of onion, make fiew holes over it by bamboo stick or sharpen stuff.


Set onion in a cooking pot, add water, Chili pepper and Golden Tamarisauce + Dashi (or Golden Tamari Sauce and Dashi powder, see ingredients section abobe for the detail.) and simmer by low frame for 50 or 60 minutes.


Set onion in the middle of dish, fill the cooked soup from the cooking pot over it.


Scatter Asatsuki,was choped in small pieces, over onion. Now ready for serving.